First Producer of Guard Tour Patrol Systems in Turkey
Real Time and Online Guard Tour Control System
- Qr Patrol System
Qr Patrol System is the evaluation of security guard checkpoint control system.
With the web-based guard monitoring system software, you can control your guards from wherever you have  access to internet. Qr patrol-real time online guard tour system; allows you add and edit all the informations regarding the multiple users access.
Reports of Security Guard Management System
Defined guards list can be seen in the pen and on the computer.
You can track your security guard when and which security points he was, and also you can report this data.
Security Guard Management can organize schedule and assign shiftd for the watchmen and can get finished route reports with guard patrol incident reports.
Guard Tour Patrol Management can get event reports and this event report can customized for each client if requested.
You can also have guard tour duration report.
All these reports can be saved on the Guard Tour Control Management Software and sent via email or print out.
These report can be taken on the name of the security guard or location/check point based on time and date.
Award-Winning Design of Guard Tour Management System
Polimek Electronic is the first producer of Guard Tour Control System which also called "Smartpen Guard Tour Patrol System" in Turkey. This guard tour control system was deemed worthy of the Creativity in Electronics award of TESID (Turkish Electronics Industrialists Association) and became the pioneer of Guard / Watchman Tour Monitoring Systems in Turkey.
First Producer of Guard Tour Systems in Turkey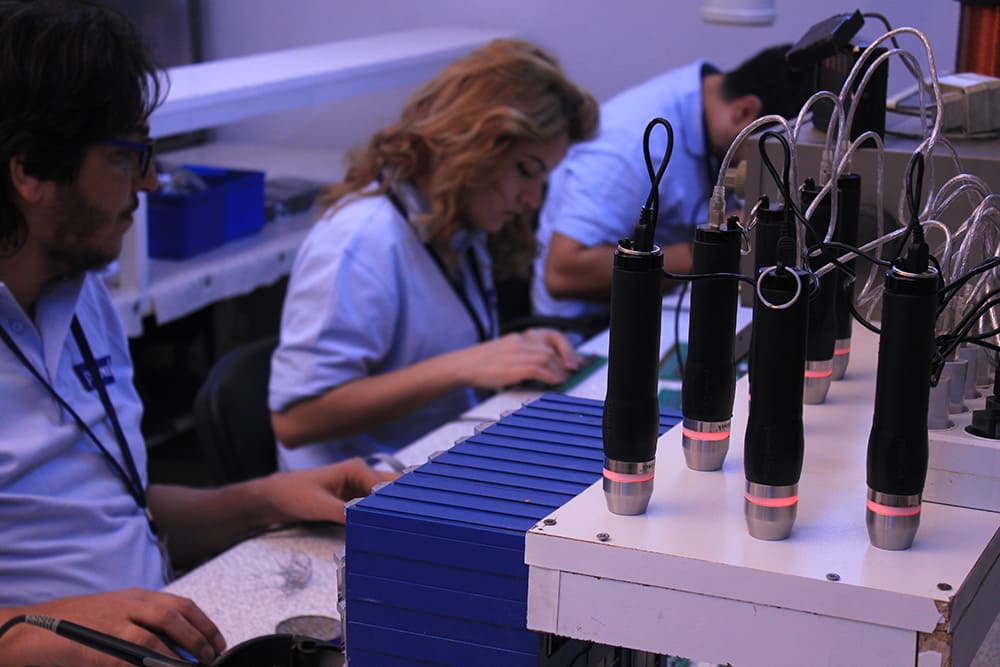 What does Guard Tour Control System Do?
Guard Tour System help companies to organize data of their security guard and execute their task. Guard Tour Control System is fast and easy to use automation systems wherever watchmen need to be controlled periodically. The Smartpen Guard Tour System is available both a desktop and web-based version.
Security Guard Check Point System provides companies and organizations information about the actions and presence of security guards such as whether the watchmen are fulfilling their duties, whether they are touring the patrol points that need to be checked, whether they go out on time for the patrol, which security guard passes from which point at what time.
This data is saved in the web-based Guard Tour Patrol Systems Software and gives a more modern shift arrangement opportunity to security management by providing digital and accurate data. Thus, there is no need to write a security daily activity report because security guard clocking system eliminates written reports and allows security managers to organize guards and bring order into the guard patrolling.
Guard Tour Control System Components
In the guard tour control systems package ; there is Smartpen (security guard patrol), security guards equipment, checkpoint readers placed the point on building or locations need to be check, security guard keys or tags, security officer equipment supply and guard tour patrol tracking software for receiving detailed security patrol monitoring reports.
What is Patrol Guard and How Does Guard Tour Work?
What is watchman tour system? What is Guard Tour system in security? What is guard tour device used for? The guards who have introduced themselves to the system through their key; they patrol the check-points that need to be checked with the Guard Tour Smart Pen and at the end of the day Guard Tour Smartpen device delivered to the security manager. When the guard tour control smartpen connected to the computer with a USB cable, via Guard Tour Control Management Software, data are processed into the system and which guard has checked which points at which time can be seen and guard tour patrol report can be received.
Watchmen Patrol Monitoring Devices with RFID, NFC, guard tour proximity and i-Button technology are installed at the points where security guards need to patrol.
In this way, the security management will ensure that the control of the security is not left to the initiative of the guards. Security guard managers have full control over the actions of security guards thanks to Security Patrol Monitoring System.
Any place you can think of with security needs such as security companies, public transportations services, warehouse departments, educational institutes, business centers, production facilities, factories etc. can take advantage of using guard tour monitoring system
Used Products for Guard Tour Management System
Guard Tour Control System Software